Regular price
Sale price
$17.95
Unit price
per
Sale
Sold out
Stony Brook's organic sunflower seed oil is 100% pure, gently expeller-pressed from seed sourced from small farms located only miles from its production kitchen in the Finger Lakes region of New York. The oil has a subtle, buttery flavor, versatile for use in everyday cooking, baking, or replacing vegetable oil in your recipes. Lightly filtered and unrefined, the oil is best used with medium heat up to 350 degree f.
This product is bottled at Stony Brook and has their label. We are selling 12.7 oz bottles of this wonderful oil.

Heart Health: The balance of fatty acids found in sunflower oil, including a good amount of linoleic acid (an omega-6 fatty acid) is very good. Although omega-6 fatty acids are typically considered "bad" cholesterol, they are still essential in the body. The problem is, most people have too many! Finding a healthy balance of good cholesterol (omega-3s) and bad cholesterol is very important. Furthermore, sunflower oil doesn't contain any saturated fats, which means that it can actually reduce your overall cholesterol content in the body. This means that you are far less likely to develop atherosclerosis, which clogs arteries, raises blood pressure, and increases your chances of suffering a heart attack or a stroke. Sunflower oil, in moderation, is a good choice for those who want to keep an eye on their heart health!
Share
View full details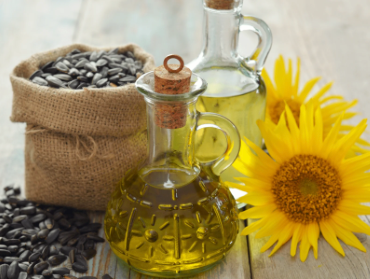 Frequently Bought Together