New England's Favorite Olive Oil & Vinegar Shop
Easily Enhance The Flavor Of Your Dishes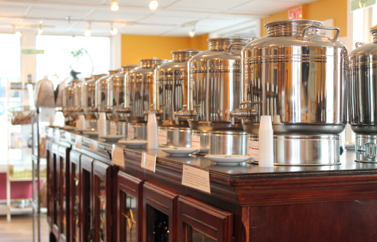 Taste The Experience
Whether you're a seasoned chef or new to the exceptional flavors and health benefits available from gourmet oils and vinegars, you owe it to yourself to come by and sample the products. The knowledgeable staff will be happy to help you with great gift ideas, product pairings and tasty recipe ideas.
Our Extra Virgin Olive Oil is rich in polyphenols – powerful antioxidants proven to promote longevity and provide bold flavor. Our Gourmet Oil products are from countries including Argentina, Australia, Chile, Greece, Italy, Peru, Portugal, Spain, South Africa, and Tunisia, as well we carry oils produced in California.

The products are hand selected to offer a premiere collection of fresh, unique extra virgin olive oils (EVOO), nut, truffle, fused and infused oils, as well as naturally flavored specialty, aged and white balsamic vinegars. With that in mind, we've assembled some of the finest imported oils and vinegars from all over the world. 
Seasonally imported, freshly-pressed olive oil from around the world
Founded in 2013, Maine-ly Drizzle is one of the largest and most exciting olive oil and balsamic vinegar speciality stores in the U.S. Our dedicated and knowledgeable staff is committed to making your in-store or on-line shopping experience and absolute pleasure.
We offer an expansive variety of award-winning Extra Virgin and Flavored Olive Oils from artisan and small batch producers worldwide, as well as authentic, aged Balsamic Vinegars of Modena, gourmet food products, seasonings and sea salts, and culinary accessories.
Whether you purchase from one of our unique tasting emporiums or from our on-line store, you can be assured of receiving the highest quality, flavorful, gourmet products, at a fair price.
Nick & Debbie Maucieri, Maine-ly Drizzle
A Perfect Way To Say Thank You
Wedding, Shower & Party Favors
Whether you are looking for special wedding favors, hosting a bridal or baby shower, or just want to 'wow' your friends and family at a special occasion or birthday party, you will positively delight the senses of your guests in a most unique way with our fresh, artisanal extra virgin olive oils and our fine, aged balsamic vinegars from Modena, Italy.  We are honored to work with you to create your personalized favors.. Please note that orders cannot be placed in-store.
View Now